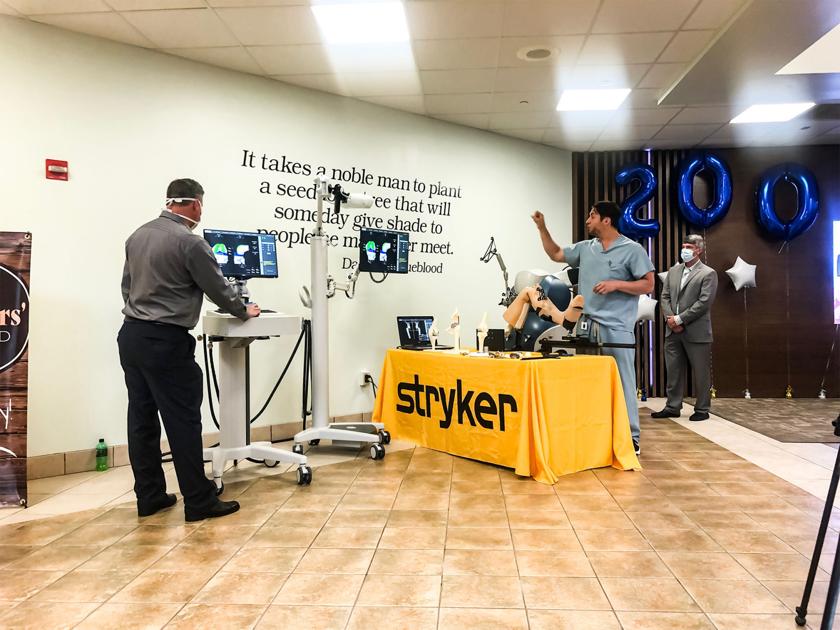 Since the introduction of robotics-assisted surgery for hip and knee replacement procedures at Penn Highlands DuBois and Penn Highlands Clearfield in August 2020, PH orthopedic surgeons, Dr. Matt Varacallo and Mark Nartatez, have performed 200 Mako robotics surgeries.
Mako SmartRobotics is a surgeon-guided robotic arm that demonstrates care that improves patient outcomes after hip and knee replacement. Manufactured by Stryker, one of the world's leading medical technology companies, Mako (pronounced MAY-ko) can cause minor incisions, less blood loss, preservation of healthy bones, and ultimately a faster recovery than traditional replacements. of hip and knee.
Along with the Grand DuBois Chamber of Commerce, Penn Highlands last Thursday hosted a half-day chamber mixer and a Mako robotics demonstration to celebrate this milestone in the PH DuBois West atrium.
Varacallo, who is the director of orthopedic surgery at PH DuBois, said the innovative procedure helps patients recover faster and with less pain.
For example, Varacallo said he has performed non-robotic joint replacement surgery on one side of the patient before robotics-assisted surgery was available at PH DuBois and then on the other side with robotic-assisted surgery. He said every patient he had had told him that they got off the cane faster and had less pain.
It was noted that PH DuBois and PH Clearfield surgeons remain the performers of the procedure. Based on the medical image of the patient's procedure site, surgeons are able to guide the robot to perform tasks that transcend human ability, however exceptional the surgeon's record may be. Robotics is one more example of how medicine continues to progress. PHH officials say they are the first hospital in the region to have this technology since it brought it in last year.
Varacallo said the technology begins with a computed tomography that is downloaded to the robot's software to create a customized 3D plan based on the patient's unique physiology. Then, once in the operating room, the surgeon can validate the patient's plan and make the necessary technical adjustments. This offers the surgeon unprecedented predictability and therefore an optimized healing and recovery experience for patients.
The benefits of Mako can provide the most optimal results and greater satisfaction for patients, according to PHH officials. Although traditional joint replacements can sometimes require several months of recovery before a patient can return to some normal routine activities, in some cases, Mako can shorten recovery time by up to half. Recovery after Mako may also include less inflammation and pain than traditional knee replacement surgery.
Varacallo said integrating this type of advancement into Penn Highlands services is part of the reason he wanted to return home to practice orthopedic surgery.
"And that's why I went into orthopedics, because it's a field where we can change your life instantly. And I mean, honestly, it's not a cheesy thing. It starts with passion and that is my passion. I can't imagine doing anything more than that with my life, "Varacallo said." I want to emphasize that I relate to my patients before doing this procedure. It's not that I'm getting into it, I'm making a joint replacement and I won't return to see never again. I will work with you to enter and move on to a new phase of your life in which you will get joint replacement and return to what you want to do. "
Starting in 2022, the orthopedics program will be headquartered at Penn Highlands DuBois Center of Excellence, for which it is currently being built as part of the master facility plan that the health system announced in 2018.