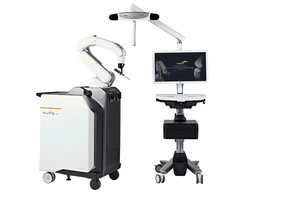 Myongji Hospital said it introduced a surgical robot 'CUVIS joint' to increase the precision of joint replacement surgery.
Developed by Curexo, a local firm, CUVIS joint automatizes the entire bone cutting process, required before a joint replacement surgery, the hospital said.
The surgical robot is expected to be used also for the elderly because it reduces pain, bleeding, and error by accurately cutting the bone based on data of 3D stereoscopic image of the bone.
The hospital could adopt CUVIS joint after the hospital's orthopedics research project, led by Professor Kim Jin-goo, was chosen as a Korea Institute for Robot Industry Advancement's (KIRIA) service robot demonstration business in the medical surgical robot area.
"Precise bone cutting in artificial joint surgery directly affects surgical results as an injured bone has to be cut out and an artificial joint has to be inserted," Kim said. "We will provide advanced medical service utilizing the surgical robot and work sincerely on the national projects to verify the performance of the surgical robot and utilize clinical data."