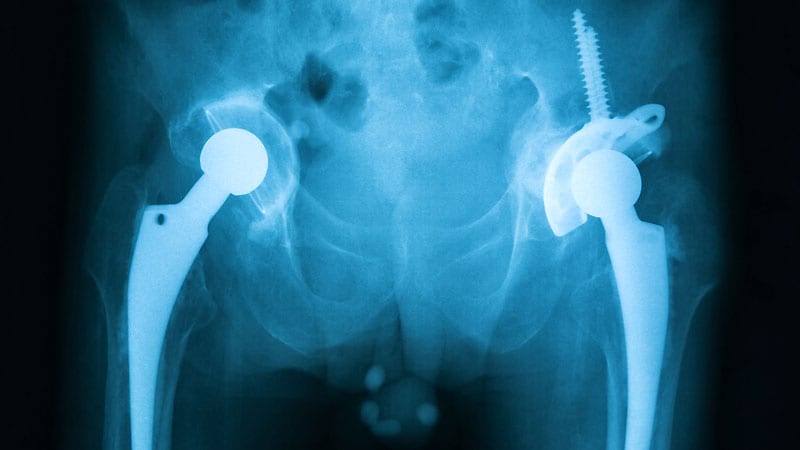 LISBON, Portugal ― Screening for Staphylococcus aureus, decolonization, and use of teicoplanin for surgical antimicrobial prophylaxis among patients with methicillin-resistant S aureus (MRSA) lowered the number of prosthetic joint infections in elderly patients undergoing surgery for fracture of the femur.
The findings were presented here as a poster at the 32nd European Congress of Clinical Microbiology & Infectious Diseases (ECCMID) 2022, which was one of the few awarded the accolade of "top-rated poster."
"We actually found that with our intervention, all prosthetic joint infections decreased, not just the Staphylococcus aureus but those due to MRSA, too," said Natividad Benito, MD, an infectious diseases specialist at Hospital de la Santa Creu i Sant Pau in Barcelona, Spain, in an interview with Medscape Medical News. "We're pleased with these results because prosthetic joint infections present such a complicated situation for patients and surgeons. This is also a relatively easy intervention to use, and with time, even the PCR [polymerase chain reaction] technology will become cheaper. Now, in our hospital, prosthetic joint infections are rare."
At the Hospital de la Santa Creu i Sant Pau, around 200 hip hemiarthroplasties are performed per year. Preceding the intervention, the hospital recorded 11 prosthetic joint infections, with up to five infections due to S aureus and up to four due to MRSA.
The intervention was introduced in 2016. After 2 years, there were no cases of prosthetic joint infections due to S aureus; in 2018 there, was one case of prosthetic joint infection due to MRSA. In 2019, there was one case of prosthetic joint infection, but it was due neither to S aureus nor MRSA. In 2020 and 2021, there was one infection each year that was due to MRSA.
Jesús Rodríguez Baño, MD, head of the Infectious Diseases Division, Hospital Universitario Virgen Macarena at the University of Seville, Spain, who was not involved in the study, explained that for patients with hip fracture, "the time frame in which colonization can be studied is too short using traditional methods. Prosthetic joint infections in this population have a devastating effect, with not negligible mortality and very important morbidity and healthcare costs."
Referring to the significant reduction in the rate of S aureus prosthetic joint infections in the postintervention period, Rodríguez Baño told Medscape Medical News, "The results are sound, and the important reduction in infection risk invites for the development of a multicenter, randomized trial to confirm these interesting results.
"The authors are commended for measuring the impact of applying a well-justified preventive protocol," RodríguezBaño added. However, the study has some limitations: "It was performed in one center, it was not randomized, and control for potential confounders is needed."
Decolonization in an Emergency Femur Fracture
This study addressed a particular need in residents of Spain's long-term care facilities. In 2016, the prevalence of MRSA was high.
Roughly one third of the general population carry S aureus in their nose. In care homes, the rate of MRSA is higher than in the general population, at around 30% of those with S aureus. In Spain, recommendations for patients undergoing elective total joint arthroplasty advise S aureus decolonization — which can take 5 days — to prevent surgical site infections.
"The problem with the elderly population is not only have they a higher incidence of MRSA but that the surgical prophylaxis is inadequate for MRSA," Benito pointed out.
Many patients in long-term care facilities are elderly and frail and are at greater risk of fracture. Unlike elective hip surgery, in which patients are asked to undergo decolonization over the 5 days prior to their operation, with emergent femur fractures, there is insufficient time for such preparation. "These patients with femur fractures need surgery as soon as possible," said Benito.
No studies have been conducted to determine the best way to minimize infection risk from S aureus and MRSA for patients undergoing emergency hip hemiarthroplasty surgery to treat femoral fractures.
In the current study, Benito and her co-authors assessed whether a bundle of measures — including rapid detection of S aureus nasal carriage by PCR upon arrival in the emergency setting, followed by decolonization of carriers using a topical treatment in the nose and a prescription of surgical antimicrobial prophylaxis (adapted antibiotic prophylaxis for MRSA) — reduces the incidence of prosthetic joint infections after surgery.
The quasi-experimental single-center study included patients admitted to the emergency department at Hospital de la Santa Creu i Sant Pau. The PCR was rapid, with a turnaround of just 1.5 hours. Decolonization of S aureus carriers was carried out using nasal mupirocin and chlorhexidine gluconate bathing, which was started immediately. It was used for a total of 5 days and was usually continued throughout and after surgery.
Patients carrying MRSA received teicoplanin as optimal surgical antimicrobial prophylaxis instead of cefazolin. The intervention did not interfere with the timing of surgery. The study's principal outcomes were overall incidence of prosthetic joint infections and the incidence of those specifically caused by S aureus and MRSA.
The researchers compared findings regarding these outcomes over 5 consecutive years of the intervention to outcomes during 4 consecutive years prior to the intervention, which started in 2016.
In 2016–2020, from 22% to 31% of the overall number of patients requiring hip hemiarthroplasty were referred from long-term care facilities. From 25% to 29% of these patients tested positive for S aureus on PCR, and of these, 33% to 64% had MRSA.
There were 772 surgical procedures from 2012–2015 and 786 from 2017–2020.
Prior to the intervention, over the years 2012–2014, S aureus caused 36% to 50% of prosthetic joint infections; 25% to 100% of the S aureus infections were MRSA. This decreased significantly after the intervention.
In 2016–2020, there was an average of 14 prosthetic joint infections (1.5%), compared to 36 (4.7%) in 2012–2015 (P < .001). Similarly, the incidence of prosthetic joint infections due to S aureus dropped to 0.3% from 1.8% (P < .002). The incidence of MRSA prosthetic joint infections was 0.3% for 2016–2020, vs 1.2% for 2012–2015 (P = .012).
The years 2018, 2020, and 2021 each saw one case of infection due to MRSA. They were most likely due to "the intervention not being performed properly in all cases," said Benito.
A prosthetic joint infection is very serious for the patient. "It means reoperating, because antibiotics are not enough to clear the infection. The biofilm and pus of the infection need to be cleaned out, a new prosthesis is needed, after which more antibiotics are needed for around 2 months, which can be hard to tolerate, and even then, the infection might not be eradicated," explained Benito. "Many of these people are old and frail, and mortality can be significant. Getting a prosthetic joint infection is catastrophic for these patients."
32nd European Congress of Clinical Microbiology & Infectious Diseases (ECCMID) 2022: Abstract 02516.
Benitos and Rodríguez-Baño have disclosed no relevant financial relationships.
For more news, follow Medscape on Facebook, Twitter, Instagram, and YouTube.