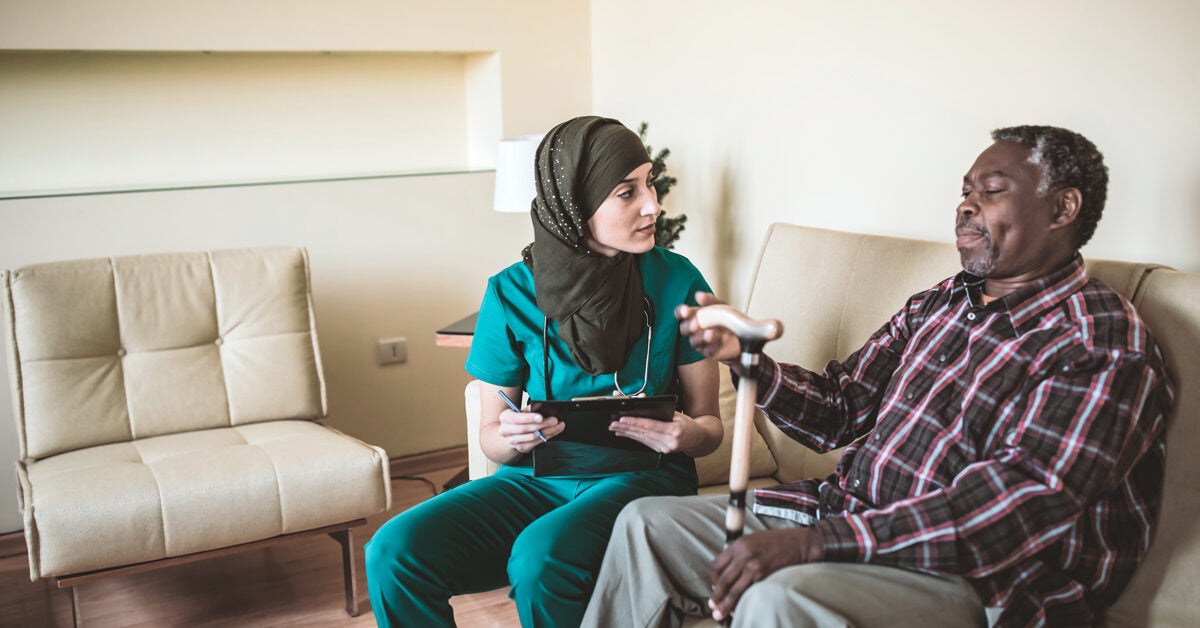 Total hip replacement is one of the most common non-emergency surgeries. The number of yearly hip replacements performed in the United States is expected to rise to 635,000 by the year 2030 due to the aging population.
Hip replacements are commonly used to treat conditions like arthritis and hip fractures that cause pain and stiffness. The risk of serious complications following a hip replacement is generally low, but all surgeries come with some risk.
Heart attack and other serious cardiovascular complications are possible complications of joint replacement surgeries. The risk of having a heart attack is highest in people with a history of cardiovascular disease and becomes higher with advancing age.
Read on to learn more about the link between hip replacement surgery and heart attacks, including how common heart attacks are after hip surgery, risk factors, and things you can do to prevent them.
A total hip replacement is one of the most successful orthopedic surgeries, with more than a 95 percent survival rate 10 years after the procedure. The majority of hip replacements are performed on people between the ages of 60 to 80.
The single largest cause of death is major adverse cardiac events (MACE), which mostly includes heart attacks. Improvements in surgical techniques and preoperative screening have led to a significant decline in postsurgery death.
The reported 30-day incidence of heart attack ranges from 0.3 to 0.9 percent after total knee or hip replacement.
Why does hip replacement surgery increase the risk of a heart attack?
It's not exactly clear why your risk of having a heart attack increases after major surgery, but various factors are likely at play.
Some events during surgery may increase stress on your heart. These include:
Inflammation caused during the repair process can increase your blood's chances of clotting, which can increase your risk of heart problems. Increased heart rate and elevation in blood pressure can put stress on your coronary artery.
With orthopedic surgery, there's also a risk of developing a fat embolism or cement embolism. That's when fat or cement from the joint replacement gets released into the bloodstream, causing a blockage or clot. This can cause serious problems with your heart and lungs.
Changes in medications before the surgery, like discontinuing low dose aspirin, may contribute as well.
How common are heart attacks after surgery?
About 3 percent of people undergoing major surgery experience a heart attack during the procedure. Complications become more common with age and in people with a previous history of cardiovascular disease or other risk factors for heart disease.
One in 5 people over 65 or over 45 with a history of cardiovascular disease develop one or more MACE within a year of non-cardiac surgery.
How long is the risk elevated?
Your risk of developing a heart attack remains elevated in the period directly after your surgery, especially in the first week.
In a large 2016 study, researchers found the risk of heart attack became insignificant 1 month after total hip replacement.
Other studies have found that the risk of heart attack remains slightly elevated in the 4 to 6 weeks after hip replacement surgery.
While your risk of a heart attack may decrease after a few weeks, you should still be aware of some other risks. Decreased mobility after hip surgery increases your risk of a blood clot and deep vein thrombosis. This risk will likely persist until you're active again.
Risk after hip replacement compared to other joint replacements
In a 2021 study, researchers investigated the rates of heart attack among 322,585 people who received spinal fusion or joint replacements. The researchers found that the risk of heart attack was generally higher in people receiving spinal fusion and lower in people receiving knee or hip replacements.
There's still a limited amount of evidence about how to reduce your chances of a heart attack before surgery. It's critical to communicate with your doctor ahead of time to evaluate your risk of complications and develop a plan to minimize your chances of developing them.
In evaluating your risk prior to surgery, your doctor will consider several factors, including:
age
overall health and underlying conditions
cardiovascular health
respiratory health
blood pressure
complete blood count
You may undergo several tests as part of the assessment, including:
physical exam
echocardiogram
electrocardiogram
chest X-ray
blood and urine tests
Your doctor may recommend taking medications like statins or beta-blockers leading into your surgery. They may also tell you to reduce or quit smoking and drinking.
Online tools are available to help you assess your risk, but you should always consult with your doctor.
Doctors don't usually recommend a hip replacement unless your hip is worn to the point it doesn't respond to physical therapy or steroid injections. It's almost always an elective surgery. That means it's not mandatory but performed to improve function and reduce pain.
A promising but developing alternative to a hip replacement for treating osteoarthritis is stem cell injections. These injections contain stem cells that can become cartilage, muscle, or bone. It's thought that they could help regenerate lost cartilage in your hip.
One small 2018 study found promising results among five people with osteoarthritis. The people in the study experienced an average improvement of 72.4 percent in resting and active pain.
Some conditions that can cause hip pain, like autoimmune arthritis and osteoporosis, are associated with an increased risk of developing a heart attack. But research is yet to show that the conditions are responsible for the higher risk.
Research has found a link between cardiovascular disease and inflammatory forms of arthritis like rheumatoid arthritis, ankylosing spondylitis, and psoriatic arthritis. These conditions cause inflammation throughout your body that may be associated with an increased risk of developing a heart attack.
A 2016 review of studies found that heart disease was 24 percent more common in people with osteoarthritis than in people in the general population.
Studies that look at the prevalence of diseases in large populations have found an observational link between osteoporosis and cardiovascular disease, partly because of shared risk factors like aging.
Researchers have found that the risk of heart attack increases after having a hip replacement. The risk seems to be highest in the month, and particularly in the week, following surgery.
Heart attacks and other surgical complications that affect the heart become more common with advanced age. They're also more common in people with a history of cardiovascular disease.
It's important to talk with your doctor before your surgery to evaluate your risk of complications and develop a plan to minimize your risk.